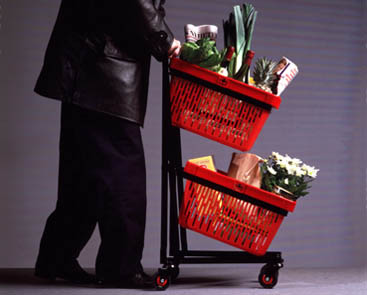 Slim
Slim turns two Big shopping baskets into a supple, robust and easy-to-handle shopping cart that really encourages additional shopping! The design is stable and elegant, and its smooth rubber wheels make Slim very simple to manoeuvre without making any noise. Try it and you'll understand why it is superior to traditional shopping carts!
Slim XL
As an extra carrying support, we offer SlimXL, the smooth little shopping-basket cart that holds two baskets, or, one basket and a crate of beer. It stacks extra tightly, so it has a very small floor space.
SlimXL fits the two largest baskets, SuperBig and Giant. It's perfect for the narrow shop and for elderly customers, who may find it a burden to carry a full shopping basket.